MARSHALL THOMPSON AND THE CHI-LITES VISIT OVERFLOW COFFEE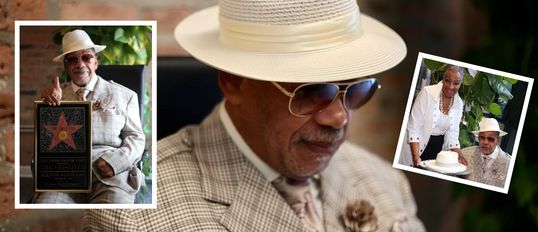 Marshall Thompson, original member and Godfather of the acclaimed musical group, The Chi-Lites, recently visited Overflow Coffee with his star from the Hollywood Walk of Fame. Marshall and the Chi-Lites celebrated Marshall's 80th birthday with a cake cutting and coffee from Overflow in the place where they got their big break–1449 S Michigan Avenue.
In late 1968, The Chi-Lites signed a recording contract with Brunswick Records, which followed Vee-Jay Records as occupants of 1449 S Michigan Avenue, now owned by nonprofit Entrenuity, and currently housing the Entrenuity headquarters, Mox.E Coworking and Overflow Coffee. After Vee-Jay Records went out of business in 1967, 1449 S Michigan Ave was converted into the new Brunswick A&R office. At the time the building was a simple two story building with a recording studio on the first floor and offices on the second floor. It was here that these electrifying artists cut hit records for Brunswick, including "Have You Seen Her" and "Oh Girl" and helped form the unique sound that became known as Chicago Soul.
The Chi-Lites scored eleven Top Ten singles on Billboard R&B charts between 1969-1974 and were featured on television shows such as Soul Train, American Bandstand, The Midnight Special, etc. The Chi-Lites were sampled by such greats such as Jay-Z, Michelle, Fantasia, and Beyonce. In 2021 the Chi-Lites were honored with a star on the Hollywood Walk of Fame.

What an incredible honor to welcome Marshall and The Chi-Lites back in the space where such legendary hits were made!
#marshallthompson #thechilites #chicagosoul #soulmusic #rnb #brunswickrecords #veejayrecords #overflowcoffee