We have a WINNER!

INTRODUCING TEIRRA SCOTT: Winner of the Know More Nonprofits $25K Innovation Challenge
Teirra Scott, Founder and Executive Director of GODDESS Girls Mentoring, is the winner of the Know More Nonprofits $25K Innovation Challenge, powered by Entrenuity. Teirra's involvement in the Challenge was supported in part by Pursue Scholars, who acknowledged her as a distinguished alumna.
Teirra grew up in Chicago and was first introduced to entrepreneurship when L. Brian Jenkins spoke at her church youth ministry, Westlawn Youth Network, who hosted the very first Entrenuity class in 1999. After graduating from high school, Teirra went on to earn three degrees: a Bachelor's Degree from Howard University, a Master's Degree from Dominican University, and a second Master's Degree in Education Leadership with a Principal Endorsement from DePaul University.
Teirra taught elementary school English for six years in the Austin neighborhood of Chicago where she grew up. Her exceptional teaching abilities consistently propelled her students to test above the 99th percentile, underscoring her commitment to their academic growth. She also served as a Director Leadership Coach with Teach for America Greater Chicago-Northwest Indiana. During her two-year tenure, her guidance led to a remarkable 96% teacher retention rate and improved student academic outcomes. Teirra founded GODDESS Girls Mentoring to empower young girls in Chicago to become change-makers, leaders, and inspirations in their communities, leaving a lasting impact. In her seven years at the helm, Teirra has transformed the program into a driving force. With 50+ dedicated volunteers, GODDESS Mentoring, an all-girls mentoring program, challenges stereotypes, uplifts urban communities, and has previously hosted city-wide conferences that impacted over 300 girls. Teirra's leadership earned the Community Service Award from the Healthy Burnside Initiative in 2021 and secured a 2022 Chicago Beyond's Rapid Response Grant.
Regarding the Challenge, Teirra had this to say, "Entrenuity's Innovation Challenge has been nothing short of transformative, not only in my professional journey but in my personal growth as well. As a nonprofit leader of color, the knowledge and insights I've acquired during the intensive two-day training have fundamentally altered the way I perceive leadership, entrepreneurship, and my role in underserved communities. This experience has ignited a profound shift in my aspirations, compelling me to explore new horizons and consider innovative approaches to expand my impact. It has awakened a deeper understanding of the limitless potential within us, reaffirming my commitment to making a lasting difference in the lives of those we serve."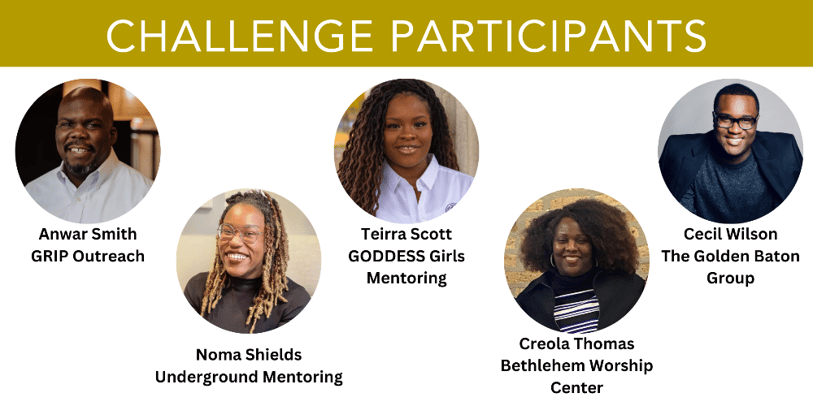 Over the course of two intense days, participants examined key principles from StartingUp Now: 24 Steps to Launch Your Own Business and Know More Nonprofits: Moving from Dependency to Sustainability, utilizing the SUN Suite collection of apps to craft sustainable solutions to the problems their organizations identified. Participants then pitched their ideas to a panel of judges who provided feedback and chose the winning pitch.
Each participating nonprofit leader was awarded:
Complimentary one-hour consultation with Entrenuity Bookkeeping Consultant, Wendy Daniels

Complimentary one-hour Consultation with L. Brian Jenkins

Complimentary one-month Mox.E Coworking membership

$1,000 check for their organization

*


(

*

As the winner, GODDESS Mentoring will receive $25,000.)
Entrenuity would like to extend a special thanks to our judges, D. Keith Pigues, CEO and founder of Luminas Strategy, Stephanie J. Townsell, Sr. Program Officer at MIGMIR, and Gralen Vereen Jr., Sr. Analyst, Fund Management at Broadstreet Impact Services (formerly New Markets Support Company), and to our sponsors: