JBU Students Visit Entrenuity
Mark and Jennifer Soderquist, longtime friends and supporters of Entrenuity, moved to the Westside of Chicago in 1991 and have lived in the Lawndale neighborhood for over 20 years. Mark serves as one of the pastors of Westlawn Gospel Chapel, alongside Pastor Derrick Rollerson, who started Westlawn Youth Network (WYN) to reach the youth in the neighborhood. Working with WYN has allowed Mark and Jennifer opportunities to impact (and be impacted by!) more than just the youth in the neighborhood. With a commitment to being transparent about what they've learned regarding race, poverty, and social justice since living incarnationally in the city, Mark and Jennifer host regular learning experiences at WYN for visiting groups from schools, churches, and businesses.
Since 1998, students from John Brown University in Siloam Springs, Arkansas have embarked on an annual student ministry trip to Chicago. During their time in the city, the students actively participate in "redemptive listening and truth-telling" sessions with Mark, Jennifer, Pastor Derrick, and other members of the Lawndale community. Students are exposed to the intricacies of social issues, gaining a fresh perspective through the lens of the city. The WYN team firmly believes that Chicago serves as an extraordinary classroom, where individuals are empowered to see the world through a different set of eyes. In Mark's words, "The purpose of this trip is not to leave with answers, but to leave asking better questions."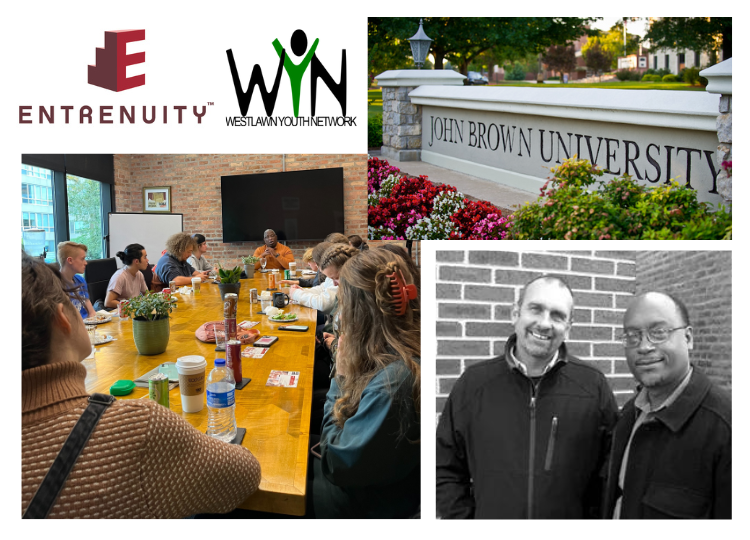 Part of JBU's annual trip to Chicago includes a visit to Entrenuity, whose partnership with WYN goes back to 1999 when WYN hosted Entrenuity's very first entrepreneurship class. Since Mark was in Kenya and unable to be present during the JBU trip this year, he creatively introduced his dear friend and Entrenuity founder, L. Brian Jenkins, to the students via video, while Jennifer facilitated the on-site learning experience. Entrenuity was honored to welcome Jennifer and the JBU students to our space and thankful for the opportunity to share the inspiring story of Entrenuity and to challenge them to consider the transformative power of entrepreneurship training in shaping lives and communities. Jennifer commented that this year's group was "an awesome group….willing to really wrestle with race, poverty, immigration, and God's Kingdom."