BARISTA SPOTLIGHT: Bianca Mack
Bianca Mack brings her sunny disposition from sunny Atlanta to the windy city of Chicago to brighten things up at Overflow Coffee Bar.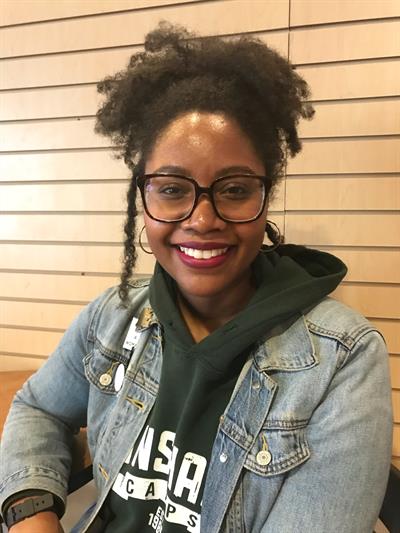 Originally from Atlanta, Georgia, Bianca Mack left a warm, loving family (in a much warmer Southern climate) to live and study in fickle-weathered-Chicago.
Bianca's currently studying Community Counseling at Loyola University and weathering her first endless Chicago winter with plenty of hot coffee at Overflow Coffee Bar! She plans to graduate with a license to practice counseling; however, her ultimate goal is to earn her Ph.D.
Bianca first visited Overflow when she met Kari Pendleton in the fall of 2017 to help with the Bakes By Kari Pie Tasting Event at Entrenuity. Realizing she needed to find a job that would allow more time and flexibility for her school responsibilities and hoping to work in a fun environment, Bianca was excited to apply for a Barista position at Overflow when Kari later told her about the opportunity. Bianca joined the Overflow staff in January 2018.
Bianca enjoys working in the coffee industry for the variety of coffee and the chance to make connections with the community. As a creative (and graduate from a performing arts high school), she believes coffee and art are connected and gains great inspiration from being around others who enjoy the beverage as much as she does! She loves the team she works with, Bakes by Kari pies and especially the conversations she has with the regular customers. When one of the regulars recently greeted her with a friendly and unexpected, "Hi Queen B!" Bianca said she was left smiling through the rest of her shift.
When she's not practicing her latte art, expertly serving Overflow customers, or hitting her studies, Bianca enjoys painting and writing.