coffee collaboration
Ethiopia, in the horn of Africa, is the birthplace of the coffee bean. The country produces more coffee than any other nation on the continent, gifting the coffee industry with some of the most prized coffees in the world. How the humble coffee plant grew into a massive industry is a story that begins with a murky legend in an ancient coffee forest on an Ethiopian plateau. It then develops and continues into the tired and twisted plot of white supremacy, colonization, and the enslavement and exploitation of black and brown people.

The original source of knowledge, labor, and profitability related to the production of coffee was enslaved Africans. Again, the ORIGINAL SOURCE of KNOWLEDGE, LABOR, and PROFITABILITY related to the production of coffee was ENSLAVED AFRICANS. Farmers of African descent continue to play a key role in the production of coffee today, yet African Americans are considerably underrepresented as consumers and professionals in the specialty coffee industry. Those who dare to demand a space for themselves, face considerable discrimination within a culture of racial micro-aggressions and outright hostility.

There is much to explore and learn related to this subject, which we plan to address in future articles, but for now Entrenuity is excited to announce a collaboration with Metric Coffee to personally address equity and opportunity for Black people in the coffee industry, starting right here in Chicago with our own Coffee Director, Kari Pendleton, and our own coffee shops, Overflow Coffee and Common Cup.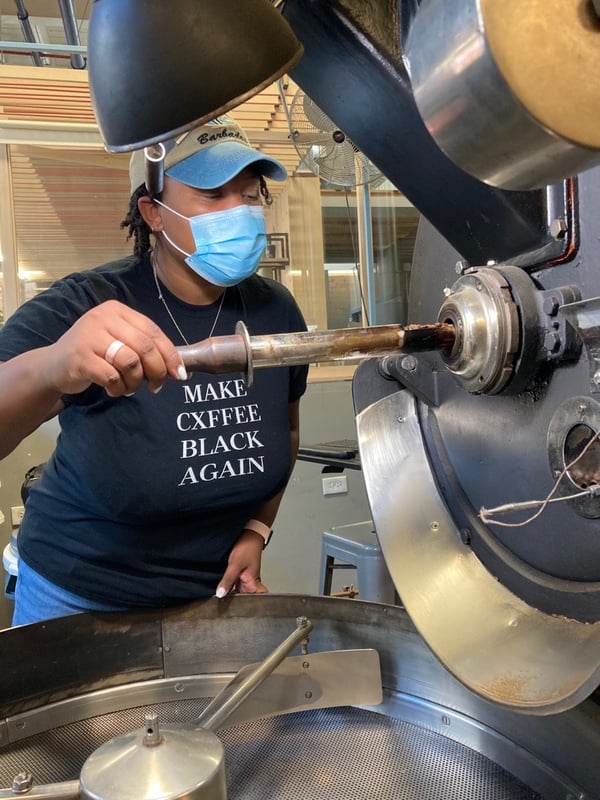 Stay tuned for our exciting (and flavorful!) reveal next month, as Kari continues her journey learning to roast with Metric Coffee.